Concrete screed machine or concrete smoother machine mainly including power trowel, concrete laser screed machine, concrete power screed, truss screed. As a concrete finishing machine, concrete screed machines are widely used in construction trowel and smooth out ground surface, and efficiency of Power Trowel Machine is 10 – 30 times higher than the manual work. And also can be used for cement floor.
Advantages
of Power Trowel
Power trowel also known as concrete power float machine, has two forms as walk behind hand held concrete power trowel and ride on trowel machine.
1. With concrete power trowel machine, you can make ground surface smoother.
2. Easy to adjust the blade pitch between 0-15 degree.
3. Trowel blade supporting arm is made of large diameter carbon steel.
4. CNC Machine to guarantee parts with high precision.
Parameter of Walk Behind Power Trowel
Model

HMR60

HMR80

HMR100

Engine

Honda GX160, Robin EY20, Lifan 168F

Engine type

Air-cooled, Single cylinder, Four stroke

Engine power

4.0-5.5HP

5.0-5.5HP

5.0-5.5HP

Working diameter

600mm

780mm

960mm

Rotation speed of blade

70-130rpm

70-130rpm

70-130rpm

Package size (mm)

720*670*790

900*900*750

1120*1120*800

Net weight

65kgs

70kgs

93kgs
Picture of Walk Behind Power Trowel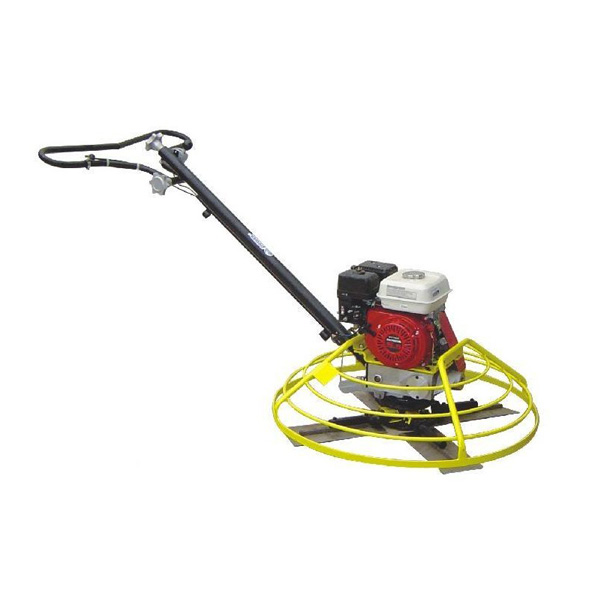 Advantages of Ride On Power Trowel Machine
The efficiency of concrete ride on power trowel machine is 10 times higher than the manual work. The max rev is up to 120r.p.m.
Trowel diameter: 800mm,900mm,1000mm
Trowel rotating speed: 60-120r/min
Power of electric engine: 2.2-3kw
Power of gasoline engine: 5.5-6.5ps
Blade number: 4pcs
Weight of electric trowel: 65kg-80kg
Weight of gasoline trowel: 105kg
Overall diameter: 1500×800×600mm.
Pictures of Ride On Power Trowel Machine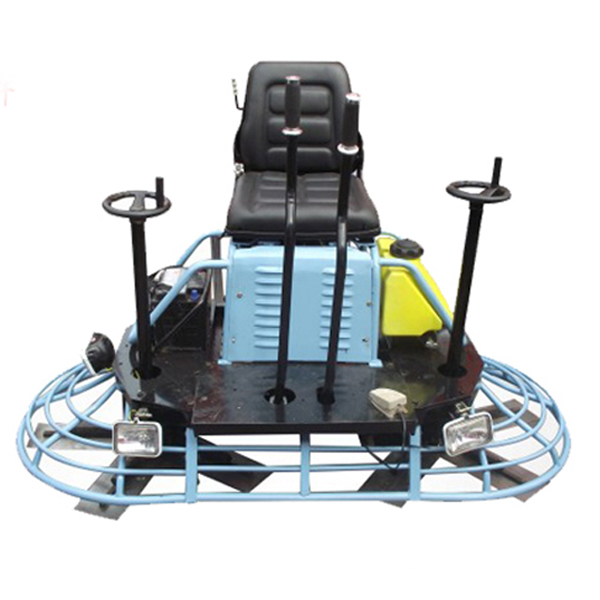 Features of
Laser
Screed Machine
Concrete Laser Screed machine equipped with intelligent handle mode of operation, flexible control, single operation can be operated to improve efficiency, save labor.
Per hour construction area of 250 square meters above the daily work to complete the 2500 square meters above, greatly enhance the operating efficiency.
Parameters of
Laser
Screed Machine
| | |
| --- | --- |
| Walking Style | wheeled |
| Drive mode | motor drive |
| Working width | 2000mm |
| Work efficiency | 150 ㎡-300 ㎡ / hour |
| Length x Width x Height (mm) | 2850x2230x1160 (mm) |
| Engine Model Honda | X200 Gasoline Engine |
| Generator power | 3.2kw |
| Voltage single phase | 220v-50hz |
| Fuel consumption rate | 1.2L --- 1.5L / H |
| Machine net weight (kg) | 230kg |